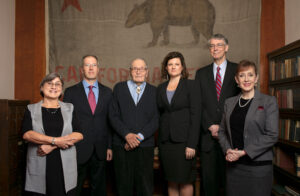 SONOMA, Calif. – May, 2021 – Reinventing the law firm business model, HVP lawyers return to the basics of legal services with an emphasis on lawyers and staff working together to offer a concierge service experience. The addition of staffers Lori Beth Merrill and Penny Martin underscores HVP's long-standing reputation for working seamlessly with clients. Committed to providing the 'white glove' treatment . Penny's adept management of client-attorney interactions and communications and Lori Beth's background as a real estate appraiser complement the legal services offered by HVP's three partners, Thomas A. Haeuser, Anthony R. Valluzzo, and Mary Piasta.
The firm focuses on estate planning and probate administration, business advice and counsel, including trademark, and real estate.  Known for its sophisticated legal advice tailored to the neighbor next door, "We strive to provide excellent legal counsel and to actively give back through our strong ties to the community," notes longstanding partner Thomas Haeuser.
Lori Beth Merrill, Legal Analyst ‒ A law school graduate, appraiser and career veteran of county government regulating real estate, Lori Beth leverages more than 20 years' experience as a real estate appraiser and working in County Assessor's offices in California. She combines working knowledge of finance, real estate, and the law to prepare current market analysis for commercial property appraisals, taking into account state and local ordinances that impact property valuations. Lori Beth has particular strength in regulations concerning transfers of property including California's Proposition 19.
Penny Martin, Paralegal and Client Relations ‒ A career legal assistant and paralegal, Penny handles the mission-critical details of daily law practice. She draws on a strong legal and administrative background focused on estate planning and administration for several other preeminent wine country law firms. Penny returns to legal administration after a career as a youth counselor at Hanna Boys Center.  Her counseling background lends an attentive ear for clients.
"Lori Beth and Penny's comprehensive understanding of legal support needs, in combination with their focus on client service, position them in a unique way to understand our clients' business objectives and legal counsel needs," said partner Anthony Valluzzo. I am proud of the entire HVP support team, and look forward to further developing our practice as a mainstay for traditional and innovative legal services with their help," concludes partner Mary Piasta.
***
Clients depend on Haeuser, Valluzzo & Piasta to chart a clear course that meets their legal needs. Much of our practice focuses on serving small and regional business owners concerned about their professional and personal future, as well as the needs of providing for subsequent generations. From the wine industry to technology startups to ranchers, we pride ourselves in assisting with growth. We value the trust our clients have placed in us and work hard to provide solid, effective, and efficient representation to meet diverse legal needs and support the ongoing need for succession planning that defines the legacies of individuals, families, and businesses.
Contact:
Mary Piasta, Partner
mary@hvplawoffices.com
(707) 996-2131