Local Expertise.

Reliable Lawyering.

Resourceful, ethical, and determined to succeed―we are the trusted advisors to adeptly navigate your legal needs. Our team offers fresh perspectives steeped in a long-standing tradition of legal know-how. We tackle tough legal issues from estate planning and property matters to business problems to help companies, entrepreneurs, family-owned businesses, and individuals move forward.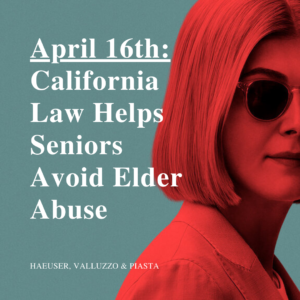 How California Law Helps Seniors Avoid the Scenario in the Netflix movie, I Care A Lot
April 16th 10:00 AM to 11:00 AM PT
In case you missed it…
View Presentation courtesy of Vintage House Sonoma
This complimentary seminar features Anthony Valluzzo, a partner at the Sonoma law firm of Haeuser, Valluzzo & Piasta LLP. Tony draws on a wealth of estate planning experience to craft solid legal strategies that provide peace of mind for life and after. While not as chilling as the movie version, Tony will provide an overview of California law addressing court-appointed conservatorships, outlining the estate planning tools that can ensure your welfare stays out of the hands of the courts. He will discuss how to empower those you trust to make decisions on your behalf, including powers of attorney and health care directives. Tony will emphasize how your individual values and concerns can be expressed and modified over time to secure your legacy, and provide tips about the estate planning process.
Click here to check out Roger Ebert's review of I Care A Lot or stream it on Netflix.
Anthony Valluzzo counsels individuals, families, and businesses in the heart of Sonoma Valley providing solutions that span generations concerning their estates and business interests. This seminar is informational only, and no attorney-client relationship is established by attending or viewing the presentation.
Reach out
Our team offers fresh perspectives steeped in a long-standing tradition of legal know-how. If you're a new client with a question about our firm or process, contact us for more information.
We're here to help you with all your legal needs.
Historic Sonoma Plaza
466 First Street East
Sonoma, California
95476-0400
We proudly contribute to our local community through the Professional Advisory Group of Community Foundation Sonoma County, Sonoma Valley Fund, Sonoma City Opera, FISH, Vintage House, Library Commission, Cultural and Fine Arts Commission, Sonoma Valley Visitors Bureau, Senior Advocacy Services, and Sonoma Land Trust. Our involvement has encompassed Sonoma Valley Chamber of Commerce, Sonoma Community Center, United Way, Sonoma Historic Park Association, Sonoma Community Service and Environment Commission, City of Sonoma Parks and Recreation Commission, General Vallejo Memorial Association. We also support international causes, raising money to help combat human rights violations against children.