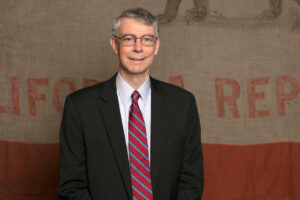 SONOMA, CA – July 26, 2021 – Prominent business and estate planning law firm Haeuser, Valluzzo & Piasta LLP is pleased to announce that Tom Haeuser, name partner and Certified Specialist in Estate Planning, Trust & Probate Law, has stepped up his roles in two vital community service organizations, Friends Helping Friends (FISH) and the Sonoma County Library Commission. Tom was recently selected President of the FISH Board of Directors, continuing his longstanding affiliation with an organization that has been lending a helping hand to neighbors in need for 50 years. Tom also accepted an appointment to serve a 3-year term as Vice Chair of the Sonoma County Library Commission, supporting our county-wide library system.
Tom's new positions continue his 46-year trajectory of community service. Under his leadership, Haeuser will focus the FISH board of directors on planning, policies, and fiscal issues as the organization enters its second 50 years with expanded governance dedicated to supporting its mission and core values. Haeuser brings intrinsic community knowledge and a life-long love of books and learning to his role as Vice Chair on the Sonoma County Library Commission, known nationally and locally for its innovation and strong connection to residents throughout Sonoma County,.
"Given the continuing growth and challenges faced by Sonoma County as we emerge from the pandemic, supporting the people we serve is of critical importance," said Haeuser. "These roles allow me to help our residents meet their basic needs and inspire their dreams and fuel opportunities for future growth – so that we can continue to thrive as a community."
Haeuser is a Certified Specialist in Estate Planning, Trust & Probate Law, State of California, Board of Legal Specialization, as well as an Accredited Estate Planner certified by the National Association of Estate Planners & Councils. Tom meets the complex estate planning needs of families and individuals. He handles trusts, wills, and estates cases throughout Northern California and adeptly navigates the challenges implicit in guardianships, conservatorships, probate, and all critical aspects of estate planning.