ROBERT PARMELEE and
THOMAS A. HAEUSER
PARTNERS IN LAW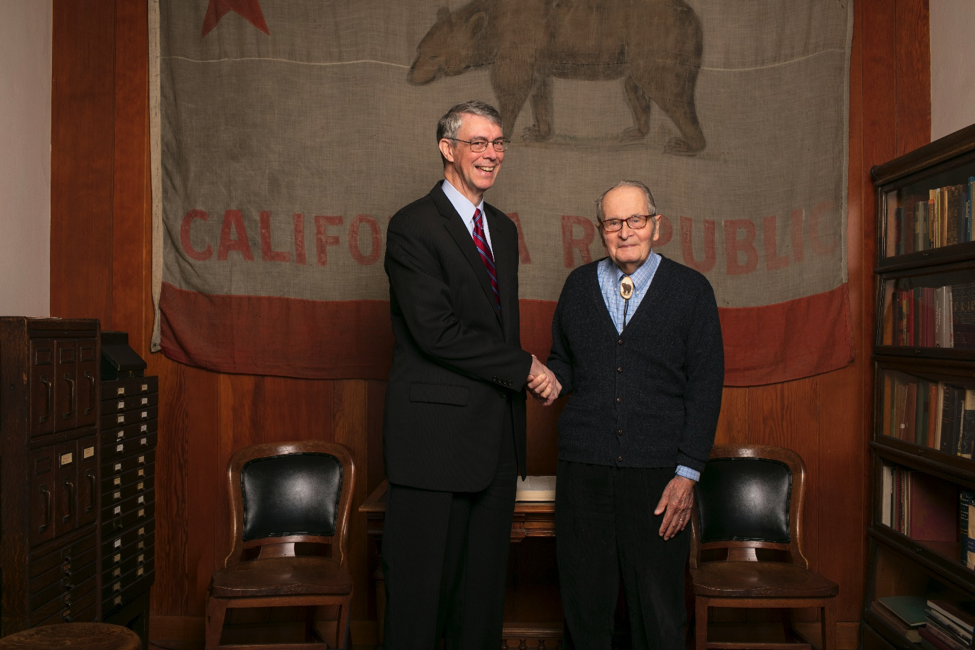 With great sadness and fond memories, Haeuser, Valluzzo and Piasta LLP announces the passing of our friend, mentor, and colleague, Robert D. Parmelee, Esq. on August 30, 2021. Bob's legacy as an attorney, indefatigable local historian and dear, dear friend will live on in the historic building on the Plaza and in the hearts of all who knew him.
Bob's life as a lawyer began after graduating from law school in 1956. At that time he was hired by the Sonoma County District Attorney's office where he served for 2 years. He was then hired by Ray Grinstead to join the historic law office in Sonoma begun by Robert Poppe. Bob handled personal injury and other trial work with Mr. Grinstead. True to the firm's history of handling estate issues which goes back to its founding in the late 1800s, Mr. Parmelee continued serving the interests of clients including their estates and real estate matters.
When Mr. Grinstead died in 1966 as the result of a fall from his horse, Mr. Parmelee needed additional lawyer power to serve the needs of clients. This is when Thomas Haeuser first met Robert Parmelee in 1974. At that time, Tom had graduated from Hastings College of the Law in San Francisco, California and was looking for his first job. While there was competition for the position, it faded away through the connection between Tom and Bob who hit it off right away. Their personalities just seemed to jibe, and they worked together for 7 years with Tom learning how to be a lawyer under Bob's tutelage.
When Bob retired after 25 years as a lawyer, he remained a source of counsel and advice as Tom continued to encounter and resolve new legal issues throughout his career spanning 47 years to date.
Bob Parmelee never left as he set up a small office in the rear of the building and a showroom area to display his antique oriental rugs and to store his historical documents, which are now known as the Parmelee Collection. He called this enterprise, after his family's business name, the Parmelee Art Company. Down through the years, Bob continued as a senior presence for the firm while Tom manned the helm with his steadfast crew of seasoned staff.
As the roster of clients and their legal needs grew, Tom was joined by his current partners, Anthony Valluzzo and Mary Piasta. Bob continued to visit the office and relay his deep bench of experience to the lawyers in the office. He also weighed in on historical matters in the context of various development projects, his own personal interest and, of course, with enthusiasts of local history. Most recently, Bob was the inspiration and major contributor behind a documentary that brought the vibrant and rich history of his beloved Sonoma to life, Call of the Valley: the Enduring Lure of Sonoma.
Those around town know Tom Haeuser for his constant presence on the beloved Plaza.
Bob and Tom remained close friends and associates from the moment Tom arrived on the scene until Bob's death on August 30, 2021. They were truly partners in the law and in dedication to Sonoma.